Sliding Garage Doors Houston, Tx
Sliding garage doors offer an alternative to traditional overhead garage doors that can give your home added curb appeal. Horizontally sliding garage doors can be found in styles from rustic barn door charm to those with a distinctive, contemporary look. They are a luxury addition to your home that will make it stand out and are a high-quality option that will offer many years of worry-free use.
An Introduction to Sliding Garage Door Garage Doors
A horizontal sliding garage door slides along a track, much like an overhead door, only they slide along a wall. Some are available that slide into hidden pockets in the walls so that you cannot see the doors at all when they are open. Others open along the interior wall of the garage, providing a beautiful touch to the interior of the garage. If you want to maximize your interior space, you can have them installed to slide along a track on the exterior of the building. It all depends on the look you want and your plans for the interior space.
One of the reasons why people choose sliding garage doors is that they come in many styles and there are many options available. You can choose from materials that include fine-grained hardwood, metal panels, and elegant designs that feature wood and glass insert panels. You can find ones available that use barn wood and barn-style hardware that is perfect for your country estate. The range of choices and designs that are available is one of the main advantages of this type of door.
Horizontal Sliding Garage Door Track Design
Horizontal sliding garage doors have another advantage over traditional garage doors. The track can be configured in any shape. You can have a track designed that slides in one direction along a single wall or wraps around a corner. Sliding tracks can also be designed that allow the doors to split in the middle and go in opposite directions and wrap around opposite corners. They can accommodate modern buildings with sharp angles, and the tracks can be rectangular or round. They can be designed to fit almost any building shape and style.
Horizontal Sliding Garage Door Price
The wide range of options available in sliding garage doors also creates a wide spread in price. The average price is between $700-$1500. This is for a basic project, but every sliding garage door system is custom designed and made to suit your space. The length of the door, the shape of the track, and whether you want an automatic or manual garage door will affect the price. The material for the door panels and how many panels you will need will also affect the cost. In many cases, installing a custom sliding garage door will increase the value of your home by giving it an updated look.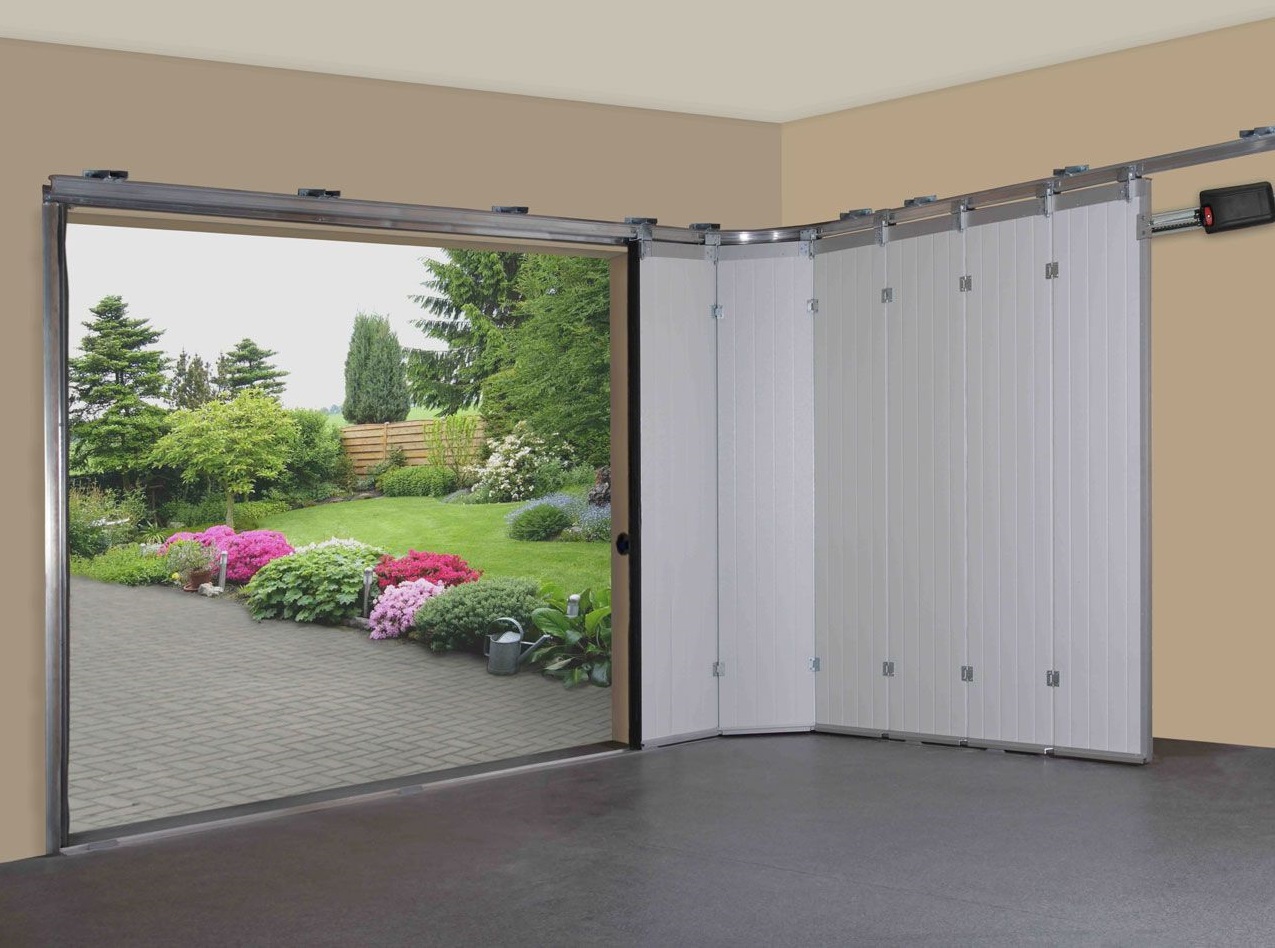 Advantages of Sliding Garage Doors
Here are some of the main advantages of sliding garage doors.
Many styles available
Can choose one or two moving pieces
Can be installed to move along external or internal walls
Wide range of materials available
Choice of panel widths
Give you the choice of opening the door partially
Tracks are durable and last a long time
Can be custom designed to create different shapes
Able to bend around corners and odd angles
Can be designed with wide opening for larger vehicles
Horizontal Sliding Garage Door Limitations
Even though sliding garage doors are an excellent choice for many homeowners and businesses, they do have some limitations.
Manual doors can be heavy and difficult to open
Not the most weather-tight
Tracks must have level ground or floor
More expensive than other garage door options
Motors and mechanics are overhead and take up ceiling space
Motors can be noisy
Side Sliding Garage Door Maintenance
Of course, there is less to wear out if you choose a manual side sliding garage door as opposed to one that is driven by a motor, but automatic ones are easier to open on a daily basis. If one of the panels becomes damaged, you can have the panel replaced without replacing the entire garage door. This can save on automatic sliding door repair costs. You will need to keep the track oiled and maintained for your door to work properly. Also, if the track becomes damaged, you will not be able to operate the door until it is repaired.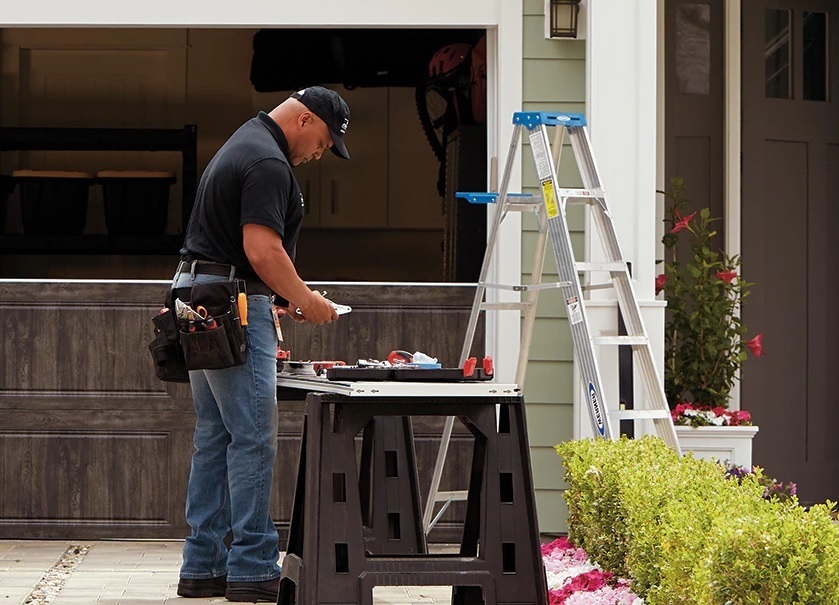 Installing Side Sliding Garage Doors
Sliding garage doors tend to be a little more expensive than standard garage doors. Many people wonder if they can offset the cost by installing it themselves. The answer to this question depends on your skill level, but for most, this is not a good idea. These doors are custom-designed for your space and must be measured precisely. Also, if you have special conditions, like your garage floor is not level, you will need to have it leveled first.
Installing sliding garage doors is a simple process, but many things can go wrong. Even a slight measurement error can cause the door not to open or close completely. Also, installing the motor and hooking it up requires an electrician. This is one project where it is best to call in an expert from the beginning. Otherwise, you could ruin your investment and cause damage to your garage.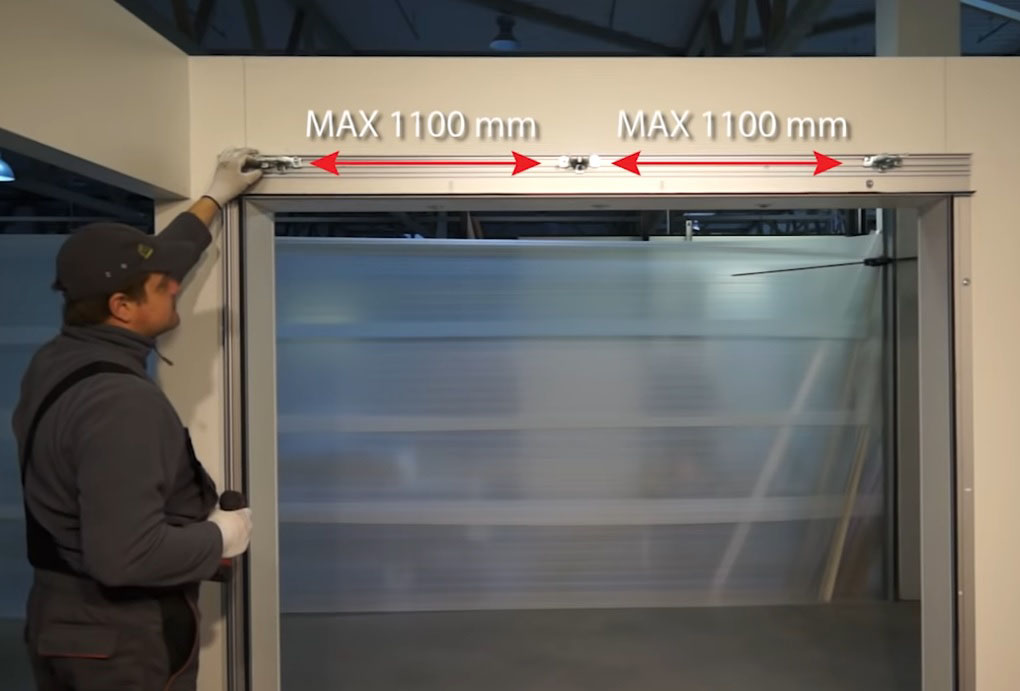 GDR Houston has experience installing sliding garage doors for commercial and residential properties in the Houston area. Before you go shopping, it is a good idea to call us for advice on what type of door would work best for your needs and building space. We can do everything from helping with the initial measurement and design to ongoing maintenance and upkeep so that your door works as you expect for many years. Sliding garage doors are an excellent investment that can improve your curb appeal and be more functional than traditional garage doors. If you have been thinking about installing this type of door, be sure to give us a call so that we can come out and help you design a door that will fit the style of your home, your needs, and your budget.
Give us a call and schedule an appointment!
24/7 Garage Door Repair! Houston's Top Rated Garage Door Repair, Garage Door Maintenance, Installs, and Service