Overhead Garage Doors Houston, Tx
Overhead garage doors are an excellent choice for those who want safety, security, convenience, and style. They are one of the most popular types of doors for both commercial buildings and homes. You have many different choices when it comes to installing an overhead garage door in Houston. You have a wide range of styles available, and GDR Houston offers expert installation and advice. If it is time to replace your overhead garage door, let's look at the some of your options.
An Introduction to Overhead Garage Doors
During the 1920s when cars began to replace the horseless carriage and buggies, people needed a way to protect their cars from the elements. Cars were a luxury item, and the old carriage houses and barns no longer served the needs of drivers. The first overhead garage door was created in 1921, and since that time, they have become a standard feature of many homes and businesses. Sometimes, an overhead garage door is called an overhead coiling door or overhead roll up door.
Overhead garage doors operate using a motor and a tension spring that pulls the door up along a track to rest in the ceiling of the garage. You can choose one that is manual or one that is automatic depending on your budget and needs. If you have an older style overhead garage door, the spring mechanism will help you lift it somewhat. Many people choose automatic ones because the door itself can be heavy. They operate using a remote, and now, some vehicles come with a universal remote installed as an option.
Today, many different types of overhead garage doors are available. If you have a commercial building, you can find corrugated metal ones that come in a wide range of sizes to fit standard door openings and other entrances. If you live in a residential home, you can find them from basic aluminum or steel to custom designer wood and glass styles. You can find a door to match the style of your home and to give it a distinctive look. Installing a garage door is a home improvement that often increases the value of your home by improving its curb appeal and giving it an updated look.
Overhead Garage Door Advantages
Here are some of the advantages of overhead garage doors.
Come in standard sizes to fit most openings
Many styles and materials
Easy to install by an expert
Range of prices for any budget
Styles available to match your home
Weather resistant
Energy efficient when properly sealed
Added security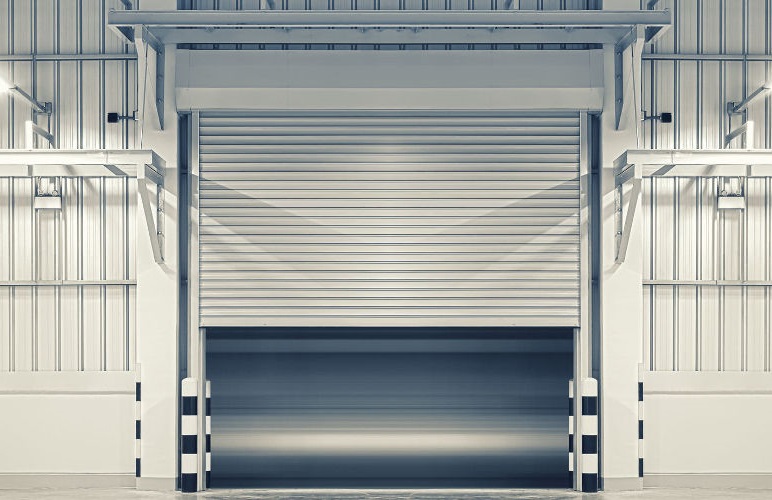 Overhead Garage Door Cost
Sectional overhead garage door

Aluminium/glass garage door

Rolling overhead garage door

Security grilles garage door
The cost of overhead garage doors depends on the type of door you choose, its material, and its size. You have many different types of overhead door panels available. You can choose from an economy grade 9-foot-wide standard door without windows or decorative treatments. Most of these start around $1,200 for the door and installation. You can also move up and add a heavier door with some decorative treatments, and this will add to the cost. On the high end of the scale are the high-grade commercial doors that are 18 feet wide and designed to accommodate large equipment. These can run upwards of $4,500 to $5,000, or more, to install.
When you are choosing a door, there are many things to consider. For instance, you need to consider the appearance, weather sealing properties, whether you want it insulated, or whether you want to include accessories like automatic sensors or a remote. An insulated door may cost more initially, but it can save in energy efficiency during the summer and winter heating and cooling months. Depending on your neighborhood, a door with decorative elements can add to the value of your home. You also need to weigh the cost against how long it will last. This factor depends on the type of material the door is made of and the grade of the door you purchase.
Overhead Garage Door Maintenance

Keeping your overhead garage door maintained will help it last longer and help you get more from your investment. There are several things that you need to do to make sure that it continues to function as expected for as long as possible. For one, you need to keep the overhead door track free from debris and rust free. This may require lubrication or applying a sealant from time to time.
The overhead door seals wear out over time, so you need to inspect them and replace them as needed. The overhead door torsion spring is the most important component to keep maintained. If the overhead door spring fails, it can cause injury or damage, so be sure to inspect it for wear.
Many doors come with an overhead door sensor that will open or close the door when it senses your approach. You need to make sure the sensor eye is clean and that nothing is blocking it. When it comes to your overhead garage door opener, you will need to change the batteries when they become low. Another thing to consider is that you might have to replace the overhead garage door opener remote when the buttons wear out. You can often find a universal one or get a new one from your manufacturer.
The garage door is something that many people do not think about until something goes wrong. It is better to be safe than sorry than have something like the spring break or a motor malfunction because the previous owners did not maintain it. Also, if your door has locks, it is probably a good idea to have them changed and have the remote reprogrammed for extra security.
Should You Do Overhead Door Installation Yourself?
Overhead garage door installation can be easy, if the only thing you are replacing is the door, but there are several things to consider before you try it. First, if you do not know how to install an overhead garage door, you need to know that placing the spring under tension is dangerous. It can cause bodily harm or damage to your garage if you do not know how to do it right.
If you are building a garage yourself and you want to build your own garage door, it is quite an undertaking. It requires precise measurement, and garage doors are heavy. It usually requires at least two people if not more. If you are installing an overhead garage door with an automatic opener, it will require a licensed electrician. Installing an overhead garage door requires carpentry skills, electrical skills, and you will need to understand how to program your overhead door remote.
Overhead garage door installation sounds like an easy task, but it is not like hanging an interior or exterior door. You might need to make modifications to the door frame or make modifications to install the track. One wrong measurement can damage your door, your garage, and cause costly repairs.
If you are going to the expense of replacing your overhead garage door, it is smart to hire an overhead garage door company who has the experience, knowledge, and tools to do the job right. GDR Houston has been in the business of installing overhead garage doors for many years and can get the job done professionally and efficiently. If you need repair or just want someone to come out and do an inspection, we can do this, too.
It is always a good idea to have us take a look at your garage door when you buy a new home and move in. If you need something as simple as having your overhead garage door remote reprogrammed or if you need structural work done to install a new garage door, you should give us a call and we will be happy to send one of our professionals out as quickly as possible to meet your needs. We offer affordable pricing, and we have built our reputation on excellent quality and service standards.
Give us a call and schedule an appointment!
24/7 Garage Door Repair! Houston's Top Rated Garage Door Repair, Garage Door Maintenance, Installs, and Service