Garage door weather stripping installation HOUSTON TX
If you live in or around the Houston, Texas, area, get swift and succinctly executed garage door weather stripping by reaching out to us at GDR Houston. Torn weather seals should be traded out for new ones as soon as possible. Our distinguished fleet of professionals will send over a tech to replace all of your damaged seals in no time at all. While you may be tempted to replace the weather seals by yourself, relying upon a professional is the best option when it comes to weather stripping for garage doors. This sort of work is best done by someone who knows how to go about it as efficiently as possible, figure out which product is best for your particular door and even cut and install it without a hitch. By calling us, you are guaranteed to have a quick replacement and installation on any number of weather stripping garage doors in and around Houston, Texas.
What Is Garage Door Weatherstripping?
Weatherstripping fills in the gap between the garage door and its frame. Without weatherstripping, cracks around the door cause warm air to leak out in the winter and cool air to leak out in the summer. This makes your heating or air conditioning system work harder and can cost you money on your energy bills. Missing, worn out, cracked, or torn weatherstripping does not do the job that it is supposed to do, and this can add up quickly in utility costs. According to the Department of Energy, sealing cracks around your doors and windows can save you as much as 20% on your heating and cooling bills.
What Are the Types of Garage Door Weatherstripping?
Most types of weatherstripping consist of some type of firm base that attaches to the frame of the garage door. It has a flexible component that compresses to fill in the gaps. Popular weatherstripping materials include plastic and metal. There are advantages and disadvantages to both of these materials. Plastic resists corrosion, but it is not as durable as metal. Weatherstripping is available that attaches securely to the bottom of the garage door and presses against the floor when it is closed to form a tight seal. Bottom garage door weatherstripping typically slides into channels that are a part of the garage door itself.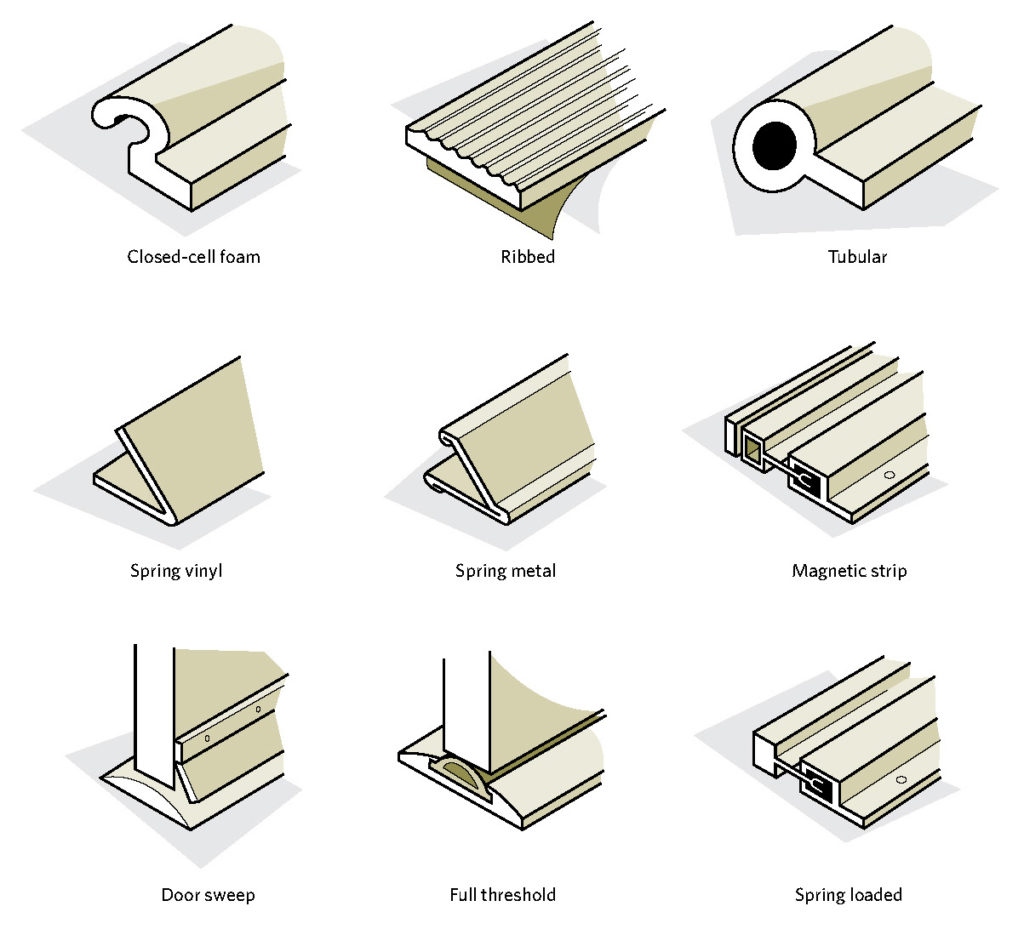 How Is Garage Door Weatherstripping Installed?
Installing garage door weather stripping involves removing any old weatherstripping that is present with a pry bar. You must then clean the surface where the new weatherstripping will be installed. Next, the weatherstripping must be cut to size so that it makes a tight seal and perfect fit.
A header piece is installed along the top of the garage door frame on the outside. Next, a wood strip is installed that allows the weatherstripping to be nailed to it. Most garages are concrete, so this requires special power tools and equipment. Finally, the weatherstripping must be trimmed so that it does not catch when opening and closing the door. You must get a perfect fit so that the opening is sealed properly and does not interfere with the operation of the door. That is why it is important to call an experienced professional for the job.
How Is Garage Door Weatherstripping Installed?
The garage door weather strip can take a lot of punishment due a mixture of constant contact with surfaces and the natural wear and tear over time. If your seals are torn or you can tell that there are some little gaps between the door and its jamb, call us. We will send a tech out as soon as we can to make the timely replacement.
You need to have resilient garage door weather stripping properly installed around the entire door. The blockage that these seals provide help to keep your air from getting out while also stopping bugs, dust and precipitation from getting in. Further, insulated doors also mean that the weather seals will boost your energy efficiency. These seals may also improve the functionality of a door, allowing it to move in the proper manner and with less resistance. When you take all of these factors into account, it makes sense why you should put in a call for the seals' replacement as soon as you sense they need it. The best company to handle that ob would be GDR Houston.
Everyone in our company understands why you need your weather stripping repaired in a jiffy. As soon as you give us the call, we send a tech out to handle all sides of your door's seals and finish that job in a timely manner. There are multiple types of seals and the best choice depends on your door's material and construction. Whether you need brush seals, rubber seals, vinyls seals or whatever, our technicians come equipped for any sort of job, armed with the proper product for your door and the equipment to fit it to said door.
Give us a call and schedule an appointment!
24/7 Garage Door Repair! Houston's Top Rated Garage Door Repair, Garage Door Maintenance, Installs, and Service